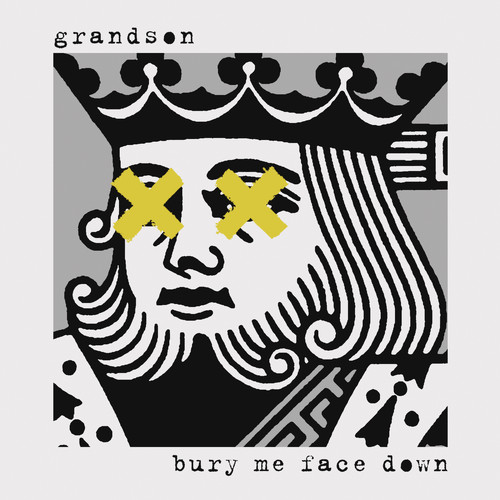 If America – or the whole world for that matter – ever decided to boil all our problems down into one issue, I think it might turn out to be passivity. It's not the CORE issue – at the core are the fears, anxieties and depressions – but passivity is the nasty result of those mental enemies. And probably the main cause of peoples anger and frustrations. There's billions of people around the earth waking up every day unsatisfied, frustrated, desperate, helpless, angry, fearful, depressed, seemingly all for a wide variety of reasons. But the common thread is that most people just don't do shit, and/or aren't motivated to do shit. Their energy is sucked out by stress, fears and worries. So much of our energy goes towards things we don't really care about, and then what do we have left?
"When I go, into the ground… I won't go quietly, I'm bringing my crown."
But at the end of the day, it's still a choice. And with the above quote, Grandson summarizes it perfectly on his smoldering, swagged-out new single "Bury Me Face Down." Once you realize that you're letting life walk by you, over you, under you and around you, you have a choice to make. Yeah you're drained, exhausted, and pissed off at the guy who made a left in front of you and didn't wave thanks. Yeah you have to wake up early tomorrow morning and do it all again. It's still a choice, and when you choose to give more than you thought you could, you re-write the program and create new opportunities for yourself. One thing leads to another, and you're feeling WAY better about yourself and attracting a better reality. If everyone was out there getting shit done, nobody would even have time to be angry at someone else because they believe in a different god or voted for the other candidate. All that shit just keeps us distracted from the real stuff anyway. We're all the same entity trying to figure it out, the least we can do is fight back and CAUSE reality to bend for US.
[soundcloud url="https://api.soundcloud.com/tracks/298638123″ params="color=ff5500&auto_play=false&hide_related=false&show_comments=true&show_user=true&show_reposts=false" width="100%" height="166″ iframe="true" /]