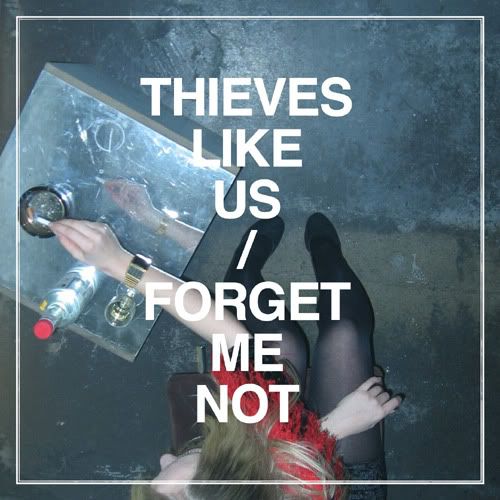 Excuse the sparsity in post as of late, I've been running around NYC more than ever dealing with all the new Hear No Evil clients and DJ'ing with sir Kevin Casey. I finally caved and decided to take the DJ'ing thing a little more serious because I felt like there was a void in the art form and we could do damage. I treat the DJ sets just like EMPT, entertain with the absolute highest level of quality and originality.  So if you haven't seen us perform yet stay tuned for the next party, our sets are dirty, risky, edgy, fun, eclectic, fast and pure Hollywood caliber entertainment.
One of my favorite songs to throw on about 30 minutes before the dirty dancing begins is the Minitel Rose Remix of Thieves Like Us' Forget Me Not. We're bringing our underground flavor to mainstream parties so I have to ease them in and play this at the beginning of the night. This is really a dirty 3am underground party track that you either dance drunkenly to or sit in a corner with a drink in hand listening, a smoke and thoughts about a love lost or something, ie the picture above.
Some dance to remember, some dance to forget…" – Hotel California, The Eagles
I mean you don't know if you should be dancing or crying listening to this, now that's a mind f&#k! The vocal performance on the original is screaming tortured romance and the remix takes that to a whole new level. The gliding synths literally make the track cry, that combined with the energetic synths and dramatic arrangement make this track a complete roller-coaster, fresh. Great entertainment, enjoy.