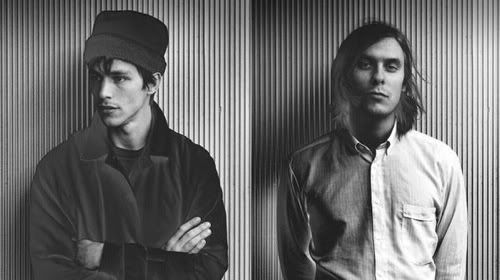 It's 4 AM and as usual these days I have very little interest in sleeping, when's the next Noctambule right? It doesn't help that I'm on another Swedish binge with music that's custom made for the night owls. Today's muse is Studio (Dan Lissvik and Rasmus Hägg), the production duo from Gothenburg that's heavily invested in the art of groove, vibe and sophistication.
Yearbook 1 was their debut album and is regarded by many, EMPT included, as one of the best in '07. Most of their songs are experimental instrumentals that seemingly never end so if you ever want to zone out for a while this album would be a valuable asset. Self Service however airs on the side of conventional in terms of structure and production but I tell yah these guys give familiarity a good name. Studio takes bits and pieces of their epic instrumental style and condenses it into a 4 minute song and the result is brilliant.
Sometimes you just don't get it straight, Just learn from your mistakes. In time when everythings ok I guess we're even now I'll be fine But you keep doing it, doing it, doing it to yourself…"
I have a billion things racing through my mind right now and there's something about having this song in the background that clears it all up. As the title suggests this song is about self defeat and our propensity to self destruct in situations that could be easily handled with a change of perspective. That said I need play this about a dozen more times, hopefully I'll get tired at some point, enjoy.