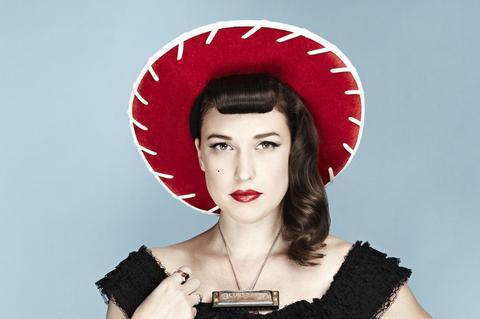 There are more and more artists trying to emulate the classic Jazz and Blues singers, which is fantastic but making yourself stick out is something that is far from easy.  Lanie Lane, an Aussie florist turned singer, does a very good job standing out in the crowd, or should I say attracting a crowd. I am disappointed I didn't get to see her perform at SXSW while I was there, but according to reviews Lanie had no problem hustling in all the eager music fans with her powerful vocals and undeniable classic style.
The whole feel of this song makes me imagine a saloon with the down- home feel of the instruments mixed with Lanie's seductive vocals and you've realized that you have stepped into a classy cabaret.  There is something special about an artist that can take you into a different time, that there must be an old soul inside those vocals to make it so real, this is what really sets her apart from other artists capturing this old Jazz/Blues feel, and that true energy projected onto an audience and even through the speakers can't be faked.
Lanie Lane is the real deal people. What Do I Do is Lanie Lane's Debut single and if you haven't caught on to her quite yet then you need to catch up and press play, enjoy.