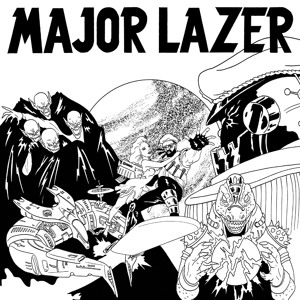 OBSESSED!  This is almost all I want to say but that would be a big no no, but that word pretty much sums up this track for me.  I know I have been holding out on this one all weekend, but I really wanted to give you something that will make you feel so F*&cking alive as it does for me.  Literally this has been on repeat for the past few days on every stereo system I can play it on, my car, my computer, my phone, Hector's amazing studio sound system and sometimes two of those at the same time…Umm ya I am excited, so what!!
Diplo is nothing less then incredibly amazing, and Major Lazer puts me on the sexiest mood, pretty much all the time, these dudes know how to get everyone undressed, literally, shaking and dancing so hard that it looks like a hurricane might have just hit.  He has been touring with MAD DECENT and as disappointing as it is for me to say that I haven't been a part of this amazing tour yet, everyone I know that has is speechless especially when Diplo gets the sound systems bumping with his ability to take anything that is already riveting and you feel like your on a different planet..WOOOOO!
This entire track is filled with Diplo's little surprises, sounds and technique you just didn't expect and for me with so many tracks, by the last 20 seconds I will switch to a new track but the end of this one is my favorite ending that I have heard in a really long time!  OK, enough with my excitement, I have decided since hearing this that it's going to be my Monday anthem, Monday is the new Friday, so press play and you will see what I mean, enjoy!