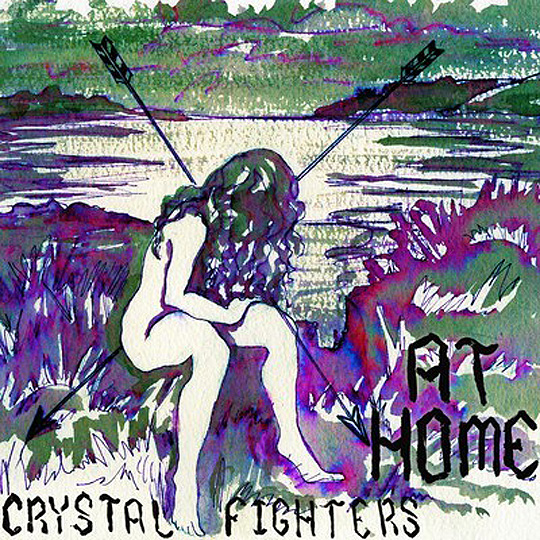 Once upon a time, I used to DJ for an independent radio station. I would spin all kinds of electro/hiphop/funk from 3AM to 6AM. My favorite pastime, aside from dancing all over the studio, was the last song of my 3-hour set. For me, it was a culmination of neurotic, sleepless energy and several hours of talking essentially to myself whilst spinning the best music I could find. For my listeners, I imagined it to be a heralding of the sun, an anthem for the new day. Crystal Fighters' At Home was one of those such representative songs. The band incorporates traditional Basque instruments like the txalaparta and txistu to set themselves apart from in the folktronica world. Crystal Fighters first album Star of Love (2010) covered a wide range of energetic sound and eclectic feeling, but At Home always stood out from the rest. With the txalaparta on the main stage, the collective vocal effort of the band is powerful and emotive.
Remember everywhere, everything is in this place,
Take a place if you found a place to take,
And if you don't have anything nice to say,
You can tell it while you take it to your grave, Wake me up when I'm on the throw to paradise,
Lift me off the ground and take me to the garden of paradise.   I left alone, I left the world I was running, To be by your side I was dying, alone by your side I was flying.
I came alone, I've come a long way to get here, The leaves they fall to my feet, at home, they mean nothing to me.
Passion Pit's remix bumps up the tempo and sprinkles their signature sound into the mix. The beat kicks a litte harder and the melody soars a little higher in the atmosphere. Where the original showcases the lyrics of love and togetherness, Passion Pit pulls the stops out and pushes the song off one plane of existence and into another. Contagious with body-moving danceability, play loud and dance hard. Say hello to a new kind of sun.