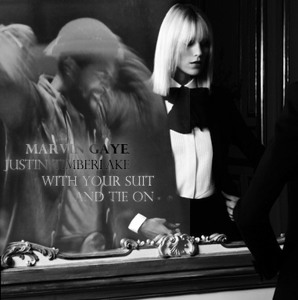 Here's the thing. Both Marvin Gaye and Justin Timberlake are two of my favorite musicians in the whole world. I stand by that statement for. Ever. JT's debut album was one of the first CDs I owned. It wasn't the first one, okay? Shakira holds that spot, but only because I found that CD first. I'm an honest and loyal supporter of Mr. Sexyback. As for Marvin Gaye, do I really have to say a lot? He's the king of soul and the king of my heart.
You can imagine my happiness when I came across this.
I'm really picky about mash-ups. In fact, I'm so picky that I've only ever written about one, and it happens to be this Captain Cuts remix. It's hardly even a mash-up because it's so new. That being said, you can trust me when I say that what we're dealing with here, is a lovely collision of two masters and their soothing sexy voices.
Damn it. I have to finish writing my thesis, but this song has my heart and mind in another dimension of fantastical sexy ruminations. Neither of these men, or RRod for the matter, have any idea that I need to be productive right now, but hey. There's no harm in imagining yourself to a more sensual place, even if the place you're physically in is not that sexy. I mean, I am sitting in a cafe sipping happy hour Black Chocolate Stout, so things could definitely be worse.
Take your suit and tie off and get it on.
RRod – With The Suit & Tie On (Marvin Gaye vs. Justin Timberlake feat. Jay-Z)