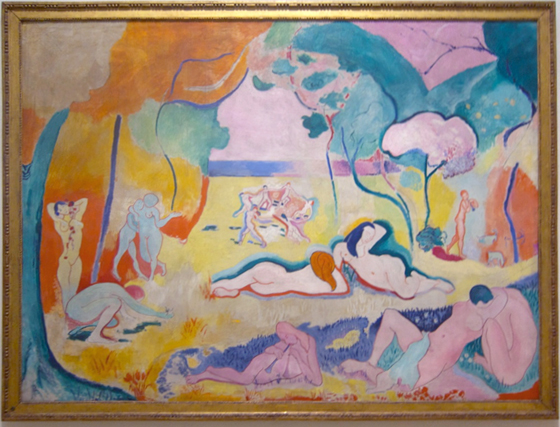 Henri Matisse, Le Bonheur de Vivre ("The Joy of Life") between October 1905 and March 1906. Oil on canvas.
From the Barnes collection, one of the greatest if not the greatest collection of Post-Impressionist and Early Modern art ever amassed. There is not a private collection in the world that comes close, it is so unique it is almost impossible to calculate it's monetary value. Being way ahead of his time as a collector, his collection consisting of masterworks by Cézanne, Renoir, Seurat, Matisse, and Picasso, to name a few. It was initially regarded as distasteful but then lauded when the public caught on to the new movements.  This made him disdain the traditional art world and discipline saying it stifles both self-expression and appreciation of art." It made him hate the way high society used art so he housed it all in a private mansion and limited who could see it.
The Barnes Foundation would attack… the enemies of intelligence and imagination in art, whether or not those enemies are protected by financial power or social prestige." – Barnes
Many disliked him for his nonconformist ways and disdain for the establishment. He was very strict on how people should experience his pieces and his intention was for the collection to never be sold, loaned or traded and only used for educational purposes to avoid being commercialized and exploited.  After his death, against his will and after one of the longest, most ruthless art battles known to the world the collection was practically stolen, and now lives in a museum in Philly. Perhaps the greatest, "legal," art heist in history.