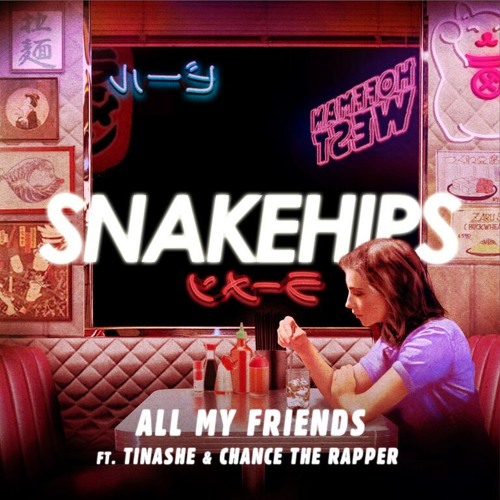 "Friday's awful chill."
All My Friends is a song made up of the regrets of a Friday night and the loneliness at the end of the night. The track is addictive however with a balance of lyrics that are a regretful and soulful with a mellow beat by Snakehips, soulful vocals of Tinashe and a shot of Chance the Rapper with his signature style of rapping dropping in for a verse.
Another Friday night I wasted | My eyes are black and red | I'm crawling back to you babe." 
The London two-piece Snakehips has never disappointed in creating a melodic and chill track. With the two different types of artists vocally crushing it, with a hook that sounds like a sing-a-long around a camp fire of people you would want at the end of your night – somehow it brings you in to sing with them. Misery does love company on a Friday night.
We reinvent the wheel just to fall asleep at it."
The mistakes we make,  the things we do in the name of fun, the masks of fun we create to show we are truly alive in the night in the moment are what this song about. At the end of the night we end up with ourselves or the other moths of the night circling around looking for the light. Swipe your Tinder's, accept that drink, pull in closer to the person you are fine with. They will do.
When the angels on my shoulder
Slump my head
I'm stuck here with the vultures
Hissing and circling
You didn't call me
Call me
I'm crawling
Crawling, crawling back to you"
It is a cycle of our own making. The FOMO, the YOLO, the forever young, the independence that we think we have to have, the sadness because we want to be something else. There is the hollowness of a night out, the memories you made only to forget them by the fourth round follow only to lead to the promises of more nights in the future.
This can't be the case for all nights. This cannot be the truth for every person walking back alone. What are you looking for on your Friday night? What does it take to feel like it was the night you set out for? Does it mean waking up next to them? Or just waking up remembering the amazing feeling of a Friday night when you are there, your friends are wasted, you not needing their bed after the lights come on. The better outcome is when you go out and it is the best night. It is the one you chase for Friday's following it. The loneliness is a dull murmur in your mind, the captivating siren with her disappointing shoulder angels have no power. Enjoy it. Enjoy your red eyes. Enjoy the bed to yourself.
Friday's are for chill."