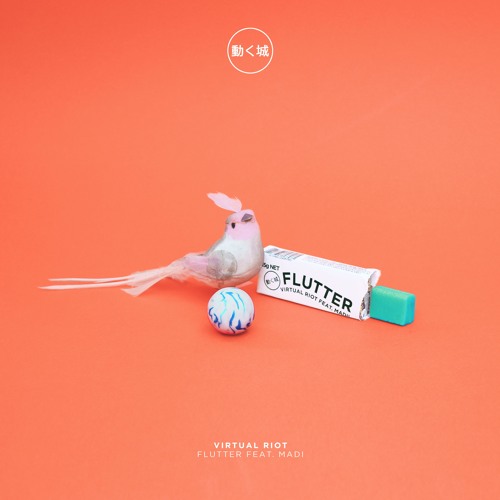 Take note, children; Moving Castle are on a serious roll and it's not totally due to their music. Sure, the posi future-bass tunes as of late have struck a chord with listeners (100k SoundCloud plays is the worst-case scenario around these parts), but this LA-based label has managed to create a culture with p u r e a e s t h e t i c in mind. I mean, look, go and check their most recent rollout for Manila Killa's "Youth;" a gorgeous, electronic ballad complimented by flowery artwork turned my entire Twitter TL into a purple-flower emoji parade for days – no, weeks – as the track climbed onward to almost one million plays.
As of this morning, my TL is quickly beginning to drown in a flock of bird emojis, which naturally means a new track – Virtual Riot's "Flutter" – is now upon us. Flanked by an album cover with the omnipresent Moving Castle logo, an assortment of miniature items, and light orange hue as a backdrop, this song's rollout is yet another one-way ticket to a e s t h e t i c c i t y. As is this case with all Moving Castle releases, though, this one sticks in the mind like a piece of gum to the bottom of your shoe; featured artist Madi's vocals are ethereal, demanding multiple rewinds in their own right while Virtual Riot's step outside of his dubstep comfort-zone results in a joyful future-bass outing.
Fuck, even Moving Castle's Twitter icon is now the same orange hue as the cover. These guys are GOOD.
[soundcloud url="https://api.soundcloud.com/tracks/270657957″ params="color=ff5500&auto_play=false&hide_related=false&show_comments=true&show_user=true&show_reposts=false" width="100%" height="166″ iframe="true" /]