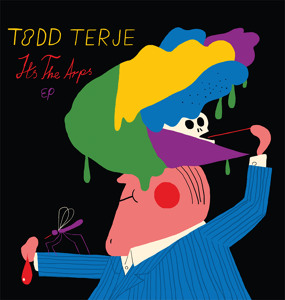 Veteran producer/DJ Todd Terje released a 7 minute single recently, when's the last time you listened to a 7 minute long track? In the age of microwave consumption we want everything to happen fast. We breeze through RSS feeds, aggregate our music and blow through it all so fast the only thing left to do is wait till the next wave of things get released to do the same. I love the new speed and I'm the worst culprit of them all. However, I'm starting to realize something that's given me reason to consider slowing things down a bit and run at my own pace. What I've come to realize is that in order to meet the demands of microwave consumption, content creators, artists, writers etc essentially have to be either prolifically efficient or become microwave creators. The latter is more realistic. Just look at all your iPhone apps, look at the titles of some of these articles, examine the content, listen to the lyrics. What the f&$k are people talking about? Nothing.
Todd Terje's new single caught my attention, it made me stop skimming to sit down and really take in the moment. This song wasn't produced to grad your attention while on a massive skimming spree, barely listening anything and if so only to see how many other people like it and add it to a playlist of approvals you'll never listen to again. This one develops, it's an adventure made for you to sit back and throughly intake. This is not microwave music.
Take your time with this one. Give your manic skimming disease a much needed rest and truly take in this music as it was intended, enjoy.