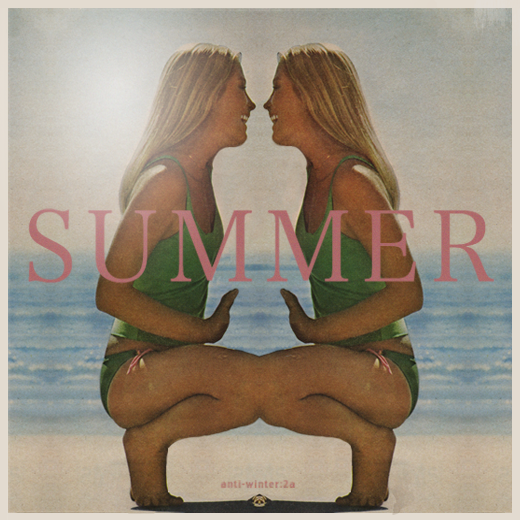 Last week we experienced some major player hating from The Man that eventually led to a subpar release of anti-winter 3A. If you haven't heard or downloaded that one yet check out last weeks post here and spread the word, the kid Ryan Radler is bringing nothing but heat and something that good should not be left unknown. We've had many set backs with The Industry & it's minions in our day but every time we come back swinging even harder and this time it's no different. We're 4 weeks and running with exclusive releases of the absolute best summer mixtape series on the web and we couldn't be more excited about it. When we're done with the anti-winter series I'm going to do a post featuring all of them so you guys can see just what this guy is doing here. From the custom artwork to the limitless sounds, these tapes are bleeding style and we can't take 'em for granted…
I ended up spending the entire winter of 2011 developing all my mixes. Cold, blustery weekends you could find me snug in my loft researching and archiving the songs that I would then throw into Logic Pro for the fine-tuning mix sessions. In a cathartic twist, projecting myself into the Summer through the mixes actually made me forget the void left after the January heat wave in LA. I have channeled my "yearning for Summer" through these mixes and now, after many months, we have finally arrived!
We like to use music around these parts for all sorts of healing so that philosophy is right up our alley. Is it just me or does that blonde have really nice hair? Alright, I'm gonna go get all my work done to this fantastic soundtrack, you should do the same. Enjoy.
S U M M E R : a n t i – w i n t e r 2A
1. Bermuda – KISSES
2. Eastover Wives – DENT MAY
3. Got Blinded – TORO Y MOI
4. Gone for Summer – TEEN DAZE
5. Albatross – FLEETWOOD MAC
6. Stillness is The Move – DIRTY PROJECTORS (HIDDEN CAT REMIX)
7. She Comes Alive – BABY MONSTER
8. From the Morning Heat – CRAFT SPELLS
9. Tunnelvision – HERE WE GO MAGIC (TEEN DAZE REMIX)
10. Summer Samba (So Nice) [Samba de Verão] – WALTER WANDERLEY
11. Weak Condition – MAXX FEMM (PAUL LAYTON)
12. Wait and See – HOLY GHOST
13. Que Veux Tu – YELLE (MADEON REMIX)
14. The Bay – METRONOMY (EROL ALKAN REMIX)
15. Do You Believe – POOLSIDE
16. Freebirds – LOVER LOVER
17. Sun – CARIBOU
17. I Want You – MARVIN GAYE
EMPT Presents – S U M M E R: a n t i-w i n t e r 2 A by Ryan Radler by Et Musique Pour Tous